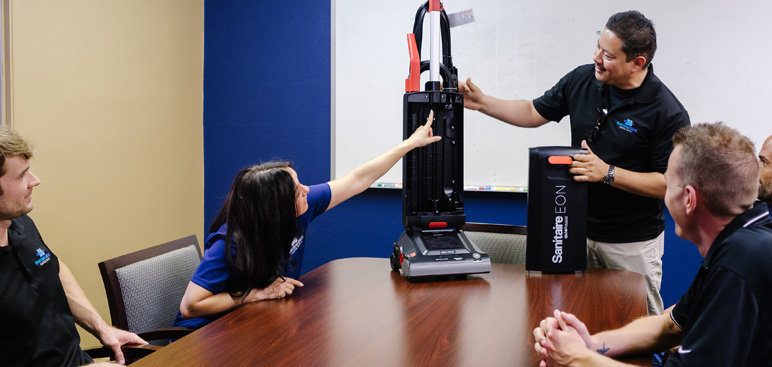 We offer hands on training in all our classes!
ALL SESSIONS OFFERED AT NO CHARGE – SPANISH TRANSLATION PROVIDED

Carpet Care: This session is designed to train cleaners in the techniques of encapsulation method carpet cleaning, extraction cleaning, general spotting and extractor cleanliness and maintenance.
Floor Care: Scrubbing, stripping, waxing, spray buffing and burnishing floors will be the topic of floor care training classes.
Restroom Care: We will focus on detailed restroom cleaning and disinfecting, the importance of disinfectant cleaners and how to control odors in restrooms.
Safety: We will focus on safety issues in the workplace such as bloodborne pathogens (spill containment), hazardous communication (SDS), the use of safety tools while working and general precautionary measures that we should all be aware of in the workplace.
Green Cleaning: A complete green cleaning program which features micro-fiber, flat mop system, environmentally preferred chemicals, paper products and green cleaning techniques and a color-coded cleaning system.
Natural Stone Care: We will unveil new polishing and maintenance products that will eliminate the need for chemicals.
Window Cleaning: Learn how to use professional window cleaning tools and get
hands on training cleaning interior and exterior windows.
Training will take place at our Phoenix store location, our Cypress location – or your specified location.
** — REGISTRATION REQUIRED — **